Gasp! It has been nearly a week since the last Merrick post. That is plainly the worst thing ever.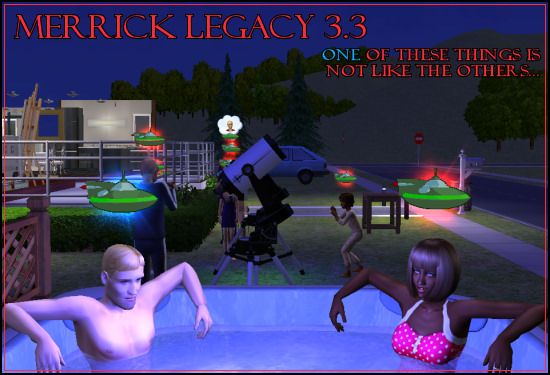 General warning: sometimes I swear.
Last time: Titania died, and I went on a tangent about The Price Is Right. Ruthie had a SECOND set of triplets -- Crystal, Tiffany, and Knute. The nanny was stupid. Cassandra and the FIRST set of triplets ARGH RUTHIE WHY became teenagers, and Cass and Duncan both decided they wanted aliens in their butts. The second set of triplets RUTHIIIEEEEE became children, and Tiffany garnered heir points by reading a story to her grandfather's ghost. Jerkface Derek achieved his LTW by becoming a Criminal Mastermind, and began pioneering the fashion trend of supervillain spiky armor + baseball cap.
This time: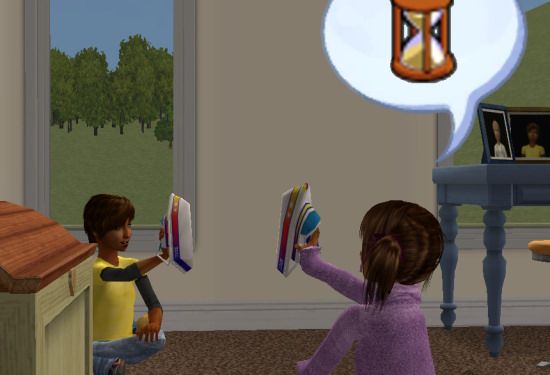 IT'S TIME FOR BOATS NOW
Oh. All right then.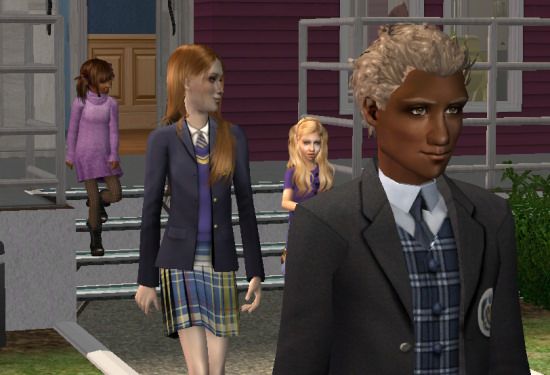 It actually looks like it's time to invite the headmaster again.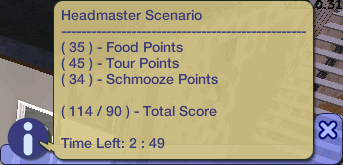 Yay! It helps that Michael schmoozing the headmaster, and the headmaster responding with a minus,
added 17 schmooze points
. This is the same headmaster who's friends with jerkface Derek. I think he just likes assholes.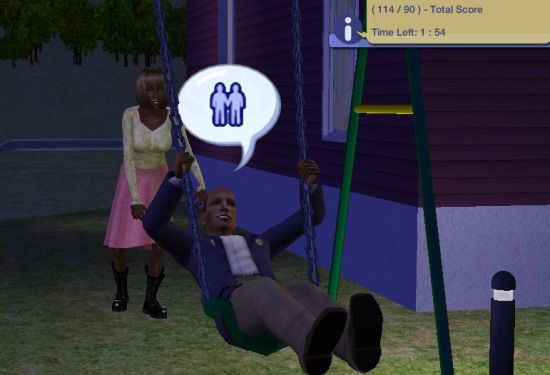 ...no, that's okay, you can just swing for the next two minutes while I wonder whether this will make me fail the scenario. That's cool.
Okay, number one, RUTHIE WHY.
Number two, FTFY.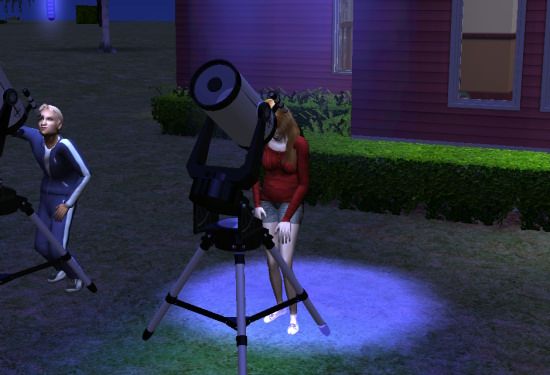 YUSSSSSSS
...Jesus? Is that you?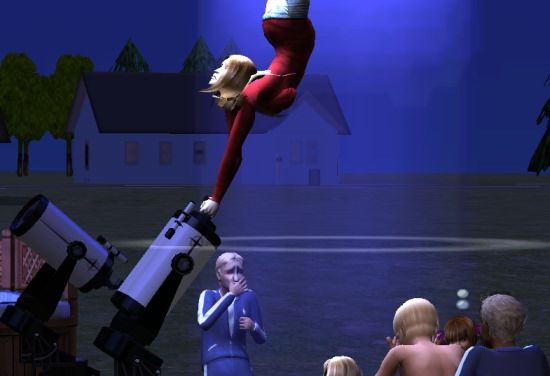 Cassandra:
THAT'S NOT JESUUUUUUS
Michael:
[naked]
Cassandra's parents:
[too busy with hot tub sex]
So long, Cassandra! Have fun with your new friends!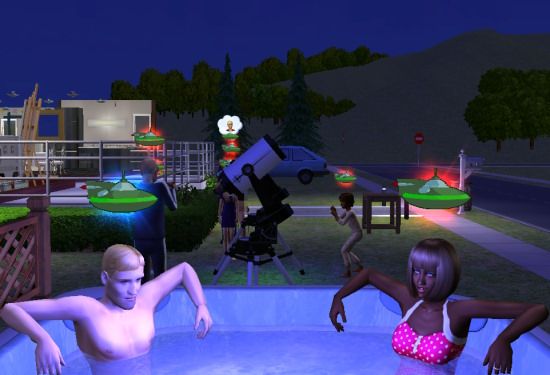 Ohh, Knowledge sims.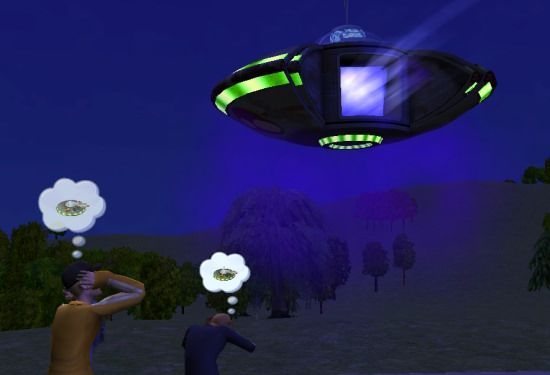 A few hours later, of course, Cassandra returns,
safe and sound
...
rattled but unharmed
...alive.
Her dad thinks aliens are awesome. Her brother thinks this whole thing is hilarious (I BET HE WON'T BE LAUGHING WHEN IT'S HIS TURN). And Cass?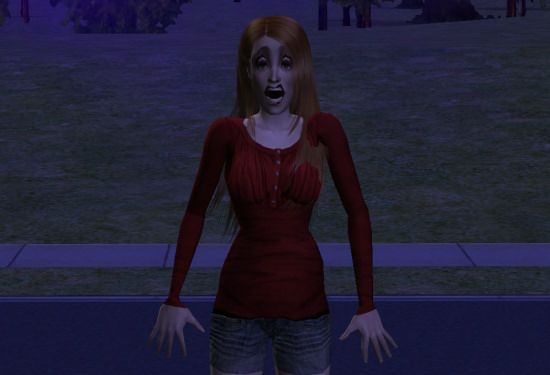 Hope the scholarship money was worth it!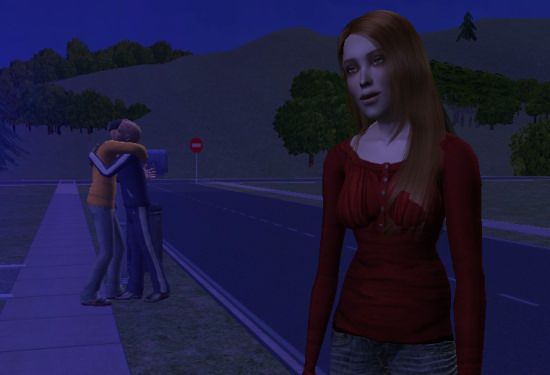 Derek:
Aww, here, son, have a hug! I don't give you enough love and support.
Cassandra:
[IGNORED]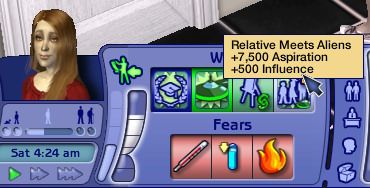 I'm thinking she may change her mind on that whole "want to meet aliens again" want as soon as she realizes the little surprise they left her. (Duncan is totally going to fulfill that "some other sucker gets picked" want, though.)
Then I notice that for some reason, despite my No Alien Sexism mod, Cass didn't get alien pregnant. And I try to force it on her with the Insimenator but that doesn't work.
So no teen-pregnant alien butt-babies. :(
HEY I WONDER IF JERKFACE DEREK IS STILL GOOD AT BEING A CRIMINAL
WOW IT TURNS OUT HE TOTALLY IS
You already have a city-smashing giant robot... why do you even NEED a doomsday device?
The next couple of days are pretty boring; I do give each teenager at least two $5,000 matchmaker dates. Duncan, the gay kid of this gen, gets three, and they're all straight. The matchmaker is dumb.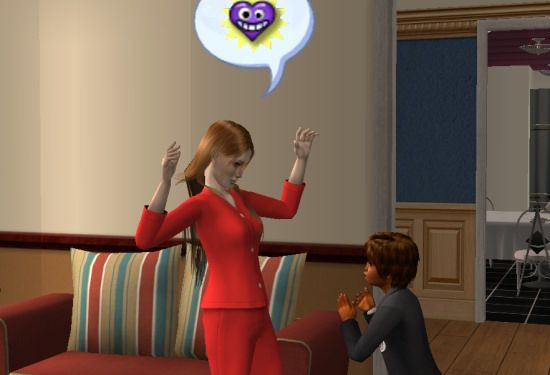 Cassandra does earn herself a screenshot by deciding to lie to her like 10-year-old brother about how she totally lost her virginity on one of her dates. (She didn't.)
Oh, and while skimming back through her memories to make sure I remembered that correctly, I found this, which is kind of awesome. They had ONE family reunion. ONE. But everyone has exactly 30 memories of it.
I still don't know why the hot tub gets to be the picture for all the party memories. But it was there for Titania and Hayden's anniversary party, and it's here now. Boy is it ever here now.
Cassandra, allow me to be the first to congratulate you on your EXTREMELY creative method of giving backrubs to your dates! (I'm going to send her to college soon, but I was hoping Duncan could fulfill that "relative meets aliens" want of hers first. Thus, with nothing else to do all day, she goes on dates.)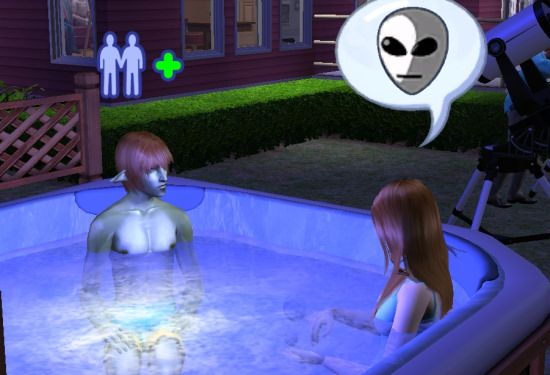 ...huh. She may not have gotten alien-teen-pregnant from being abducted, but through the magic of ACR, it looks like Cass is going to lose her virginity to an alien all the same.
You can probe me any day *wink* *nudge*
You might not even go to jail for it!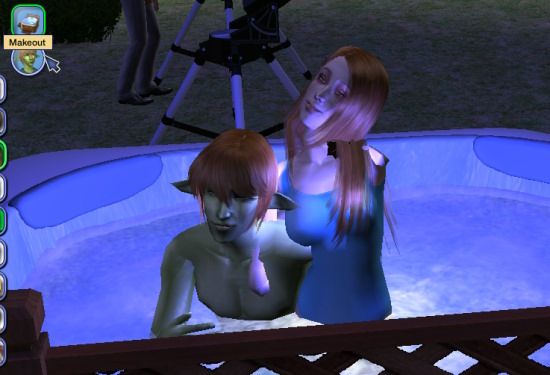 Sooo... this is how they make out on Stevie's planet, or...?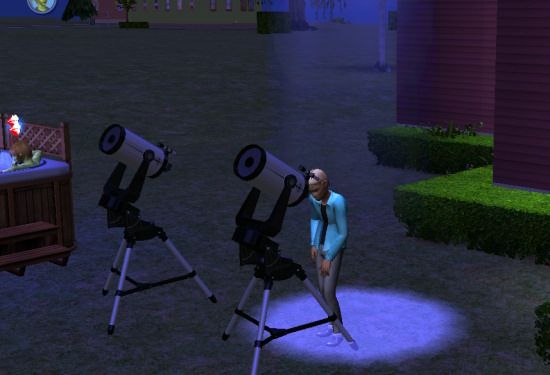 YUSSSSSSS
even if it interrupts Cass's attempts to bed Stevie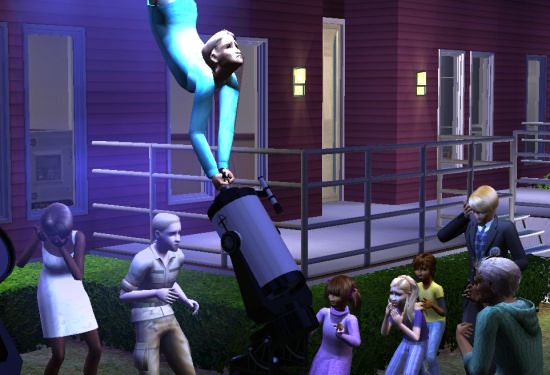 WHY IS NOBODY HELPING ME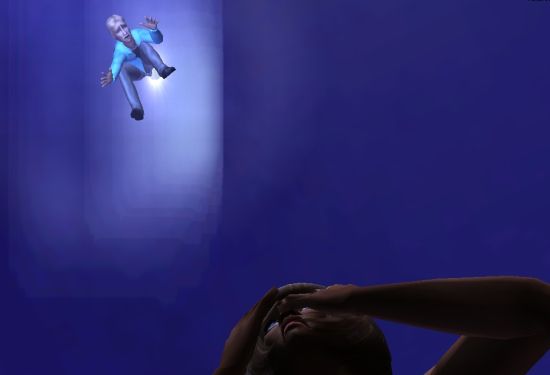 MOMMY
HELLLL
LPPP
MEEEE
E :( :( :( :(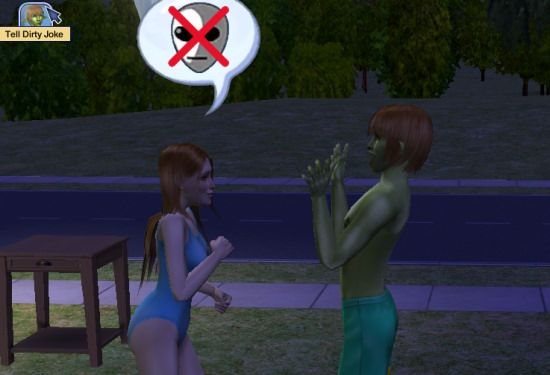 Um. You don't see anything wrong with your timing on this, Cass? Or your audience?
For the record, this particular joke seems to be: there are no aliens allowed...
...at this school...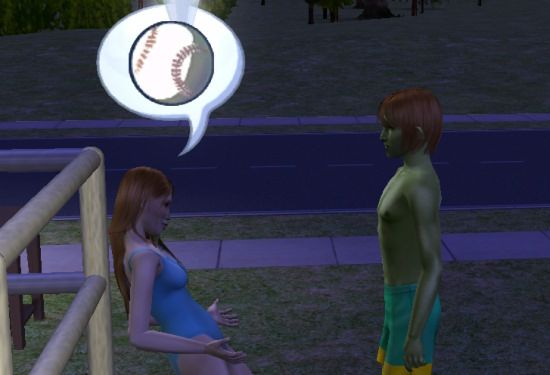 ...where the students play baseball NAWMEAN.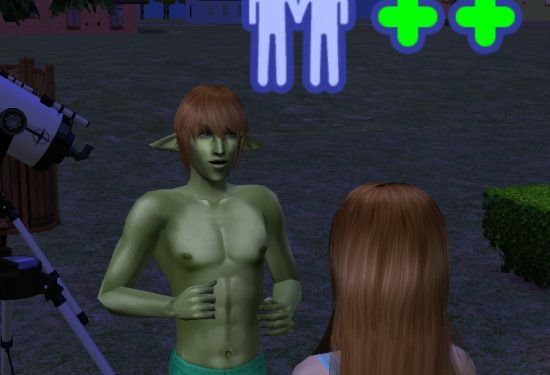 Your human racism against my kind is awesome!
FFFFUUUUUUU --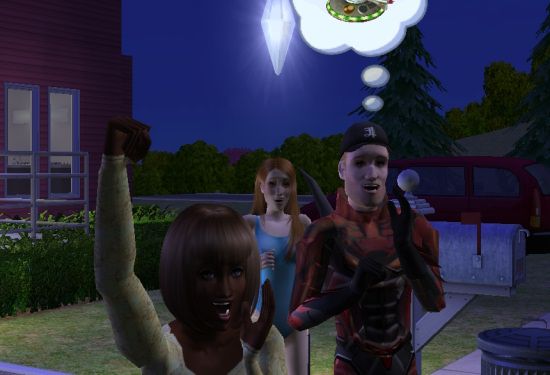 Least supportive family
ever
. "Goooo aliens! Anal-probe that teenager!"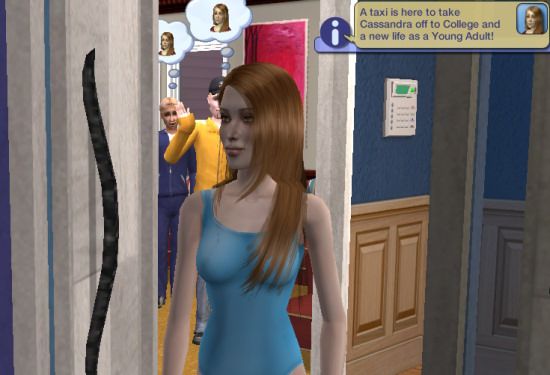 Welp, we don't need Cassandra anymore! Off to the sim bin with her.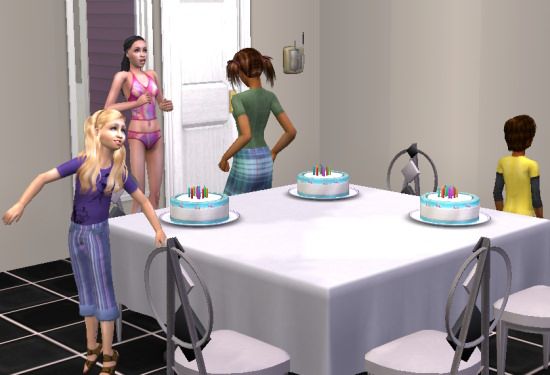 And since I miiight be getting just a tiny bit sick of all these kids, I steal a day from the youngest set to grow them up in terribly unsynchronized fashion. (Photobomby townie is photobomby.)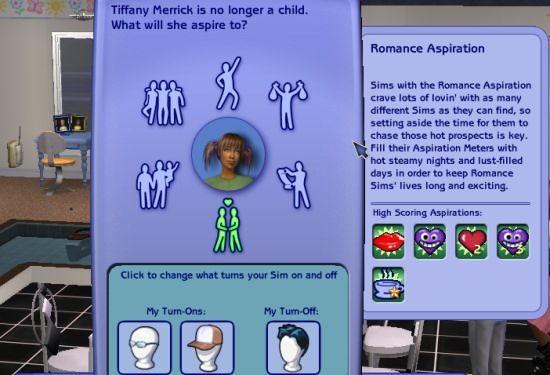 Tiffany rolls Romance, with a LTW to become a professional party guest. She's also apparently into accessorizing. (+glasses and hats, -black hair)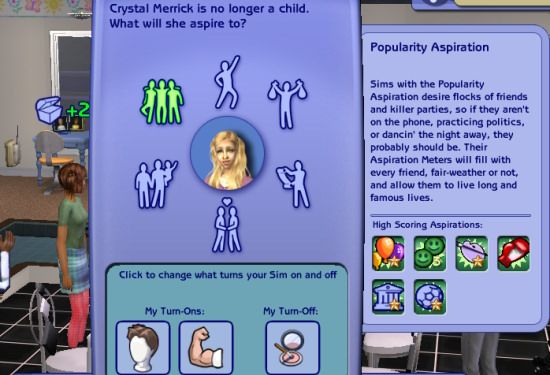 Crystal rolls Popularity, with a LTW to become a Hall Of Famer (same as her Fortune-sim brother Duncan). She thinks guys should go with the natural look (but steroid use is fine). (+brown hair and fitness, -makeup)
And Knute rolls Knowlege, with a LTW to become a Criminal Mastermind, same as his dad.
He's attracted to stinky old people.
That is really an awkward combination of turn-ons.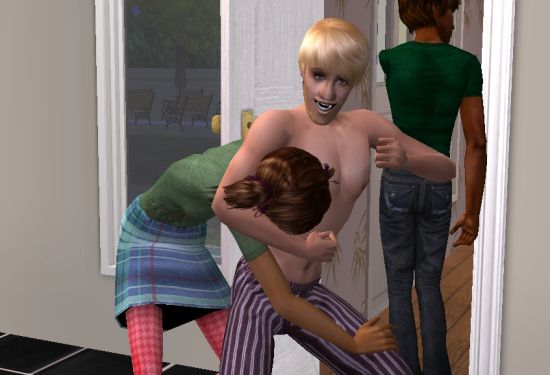 Michael welcomes his little sister to teenhood.
So I make them over, and...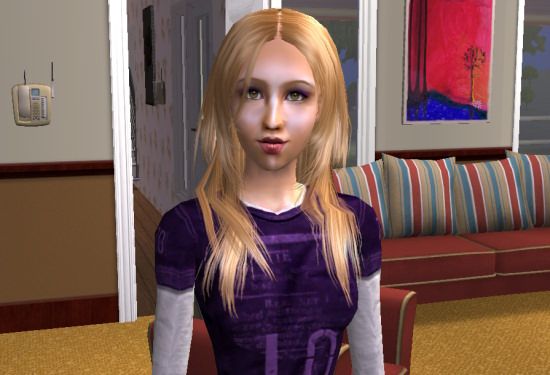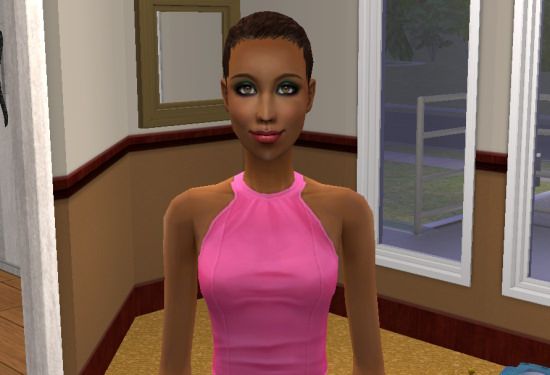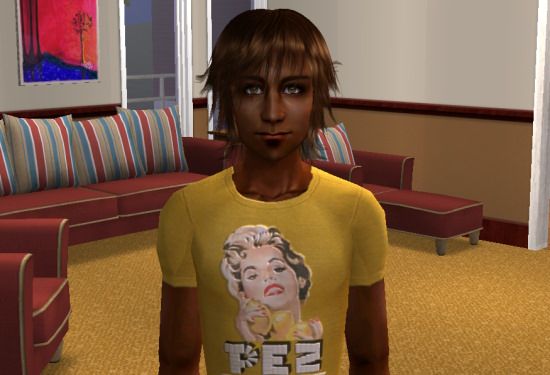 They are all pretty what the hell (Knute looks a little sickly but I think I just shouldn't have picked yellow as his color). It's not like they completely avoided Derek's genes, but they did all manage to avoid the jaw, at least, and... bah. I don't think I'll heir any of them... maybe Tiffany, but not likely on the other two... so I guess they'll make good additions to the general gene pool.
For the record, Tiffany rolled gay, the other two straight. And I'm not one to declare that lesbian == butch haircut, but there was seriously no hair I had that looked half so good on her as this one.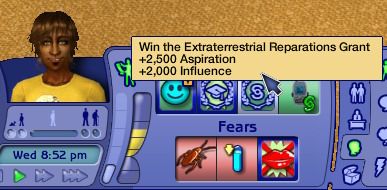 Oh god, they're multiplying.
Skilling party! The only kid missing is Knute, and that's because he's downstairs showering in preparation for spending all night on the telescope.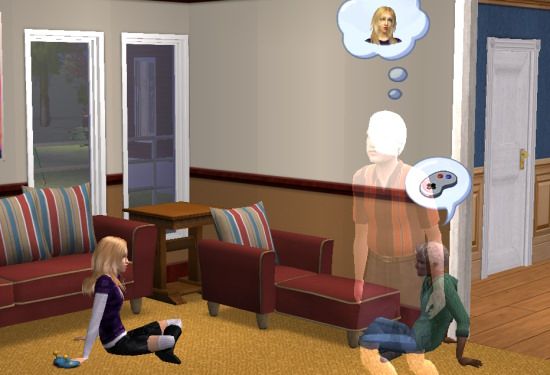 Ghost!Hayden literally spends an evening wandering back and forth through the living room while thinking about Crystal. It is... unnerving.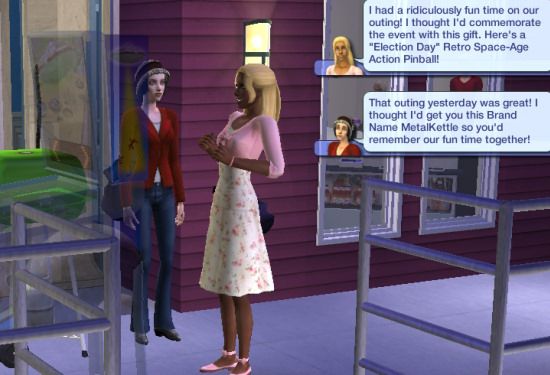 In other news, Michael is a total pimp.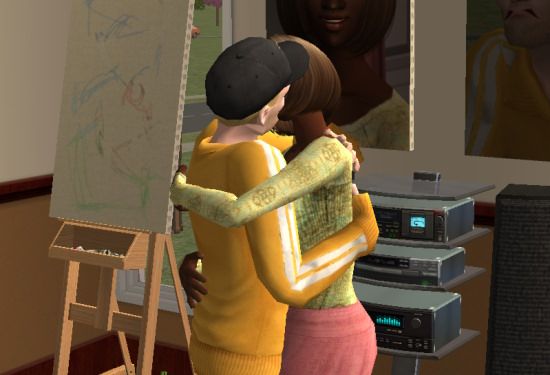 Time for these two to have one last autonomous PDA-fest before they get old!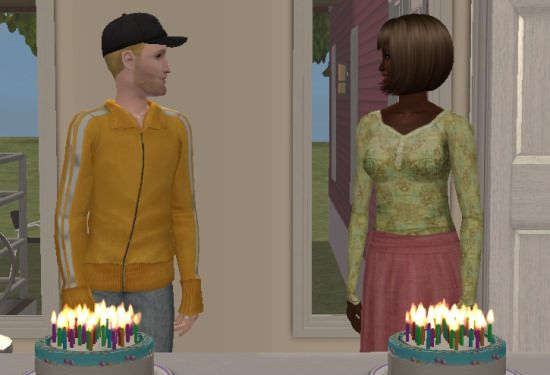 D'aww.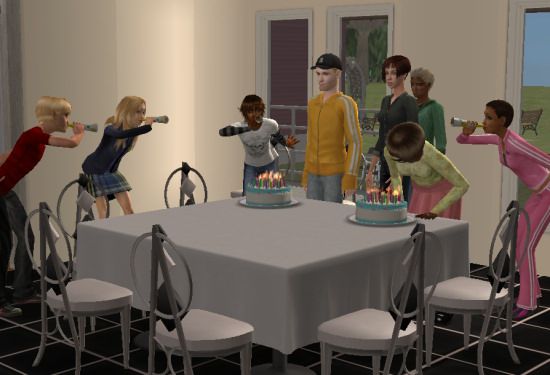 See, this shot would've been perfect if not for Michael's date getting her photobomb on, and also distracting Jeremy from joining in on the party horn-ing. ...and it might have been nice if I had remembered to wait for Duncan to get home from work, too. Ooops.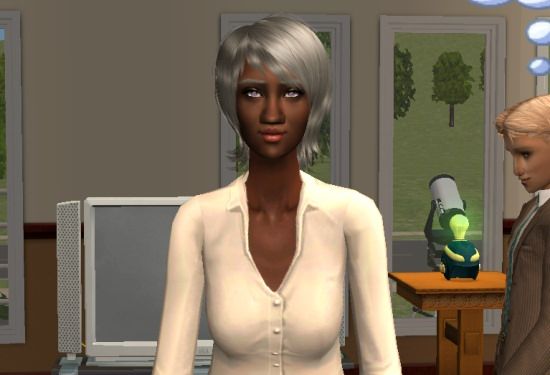 Ruthie!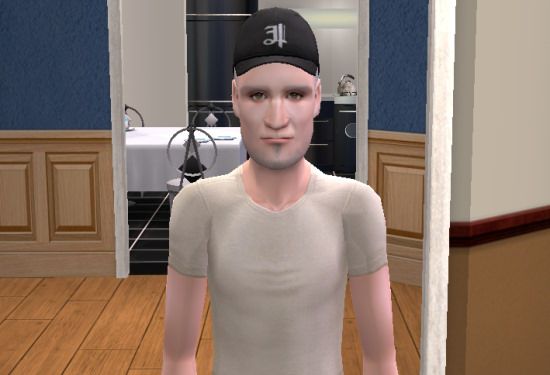 Derek!
I don't have a single yellow elder male shirt that isn't one of the stupid ugly Maxis tucked-in-at-armpit-level polo shirt things, so Derek will just slum around in a plain t-shirt for now. But, of course, he'll never lose the hat. He wears that thing to his secret lair on Skullfucker Mountain -- you think he's ditching it just 'cause he got old?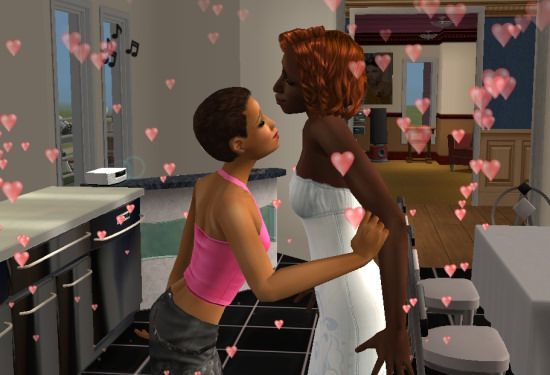 Now, see, you might see this picture of Tiffany's first kiss and think "how sweet", or "that's hot", or "dude what's with the tall chick's nose" (well, maybe not so much that last one from this angle). Those would all be valid. I, however, look at it and think "WHY DID IT TAKE UNTIL THE DATE METER WAS MAXED BEFORE THE 'FIRST KISS' OPTION EVEN APPEARED?!"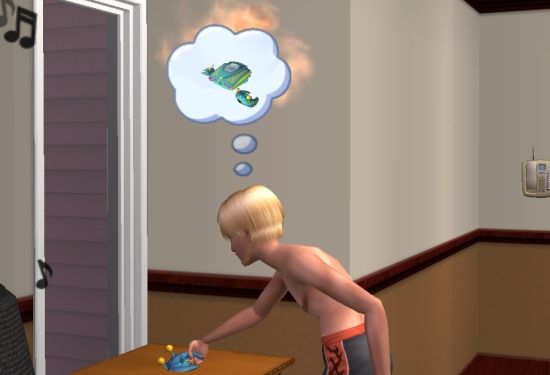 I HATE THE CONCEPT OF VIDEO GAMING.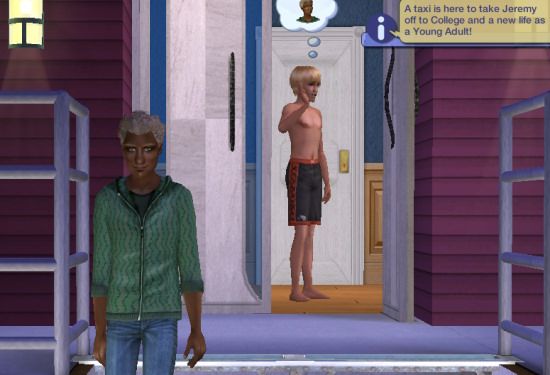 Well, I hate the concept of playing all you guys as teens much longer. (Because uni will be
so
much more fun ARGGHALAJGHALGJ WHY DO YOUNG ADULTS WALK SO SLOWLY EVERYWHERE.) Bye, Jeremy!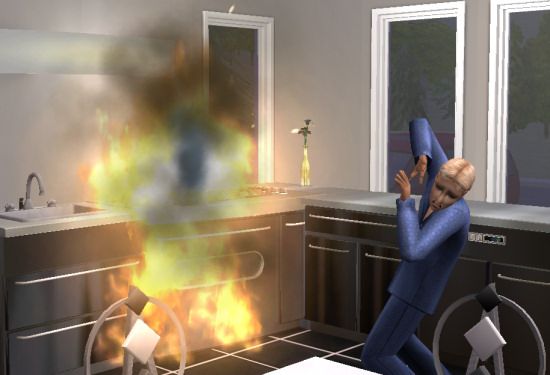 Pancakes are hard.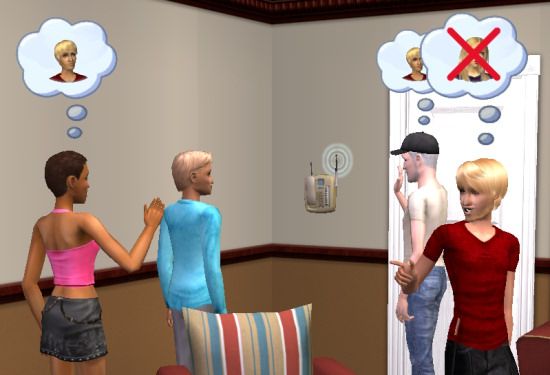 Off goes Michael!
Catch y'all later! Tell Crystal she sucks.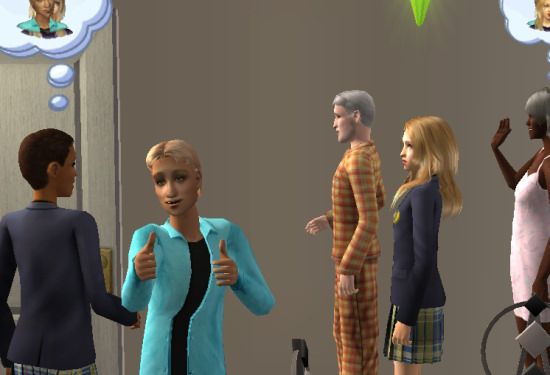 Duncan follows the next day!
So long, guys! Crystal, you're all right.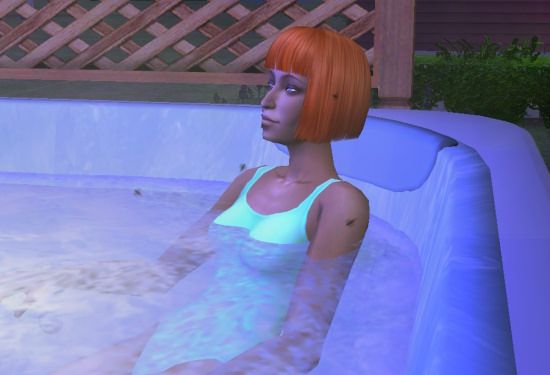 Duncan's replacement is apparently this lady, who sits in their hot tub at the center of a cloud of bugs and stink. Sanitary!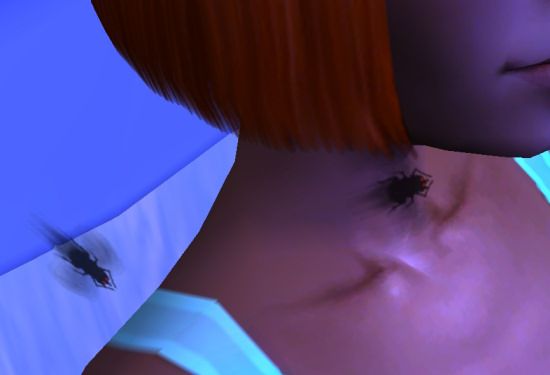 Also, the bugs? Have tiny glowing red eyes. BECAUSE THEY ARE DEMON BUGS.
YUSSSSSSSS
oh my god why did i decide to do three of these in one generation
Funny story: everyone in the house was asleep at this point except for Knute, so I was leaving the game running while I started to take a drink of hot chocolate. Then I thought to myself, as I was still lifting the mug, that I didn't want to miss the abduction if it happened to occur while I was drinking -- not that it would, 'cause he'd been at the telescope for several nights already with no results, but better safe than sorry, right? One eye on the mug as I put it to my mouth, one eye on the keyboard as I found home row and rested my pinky on the P key...
...and at that instant, I heard Knute scream.
Fucking game totally tried to wait until I was distracted by hot chocolate.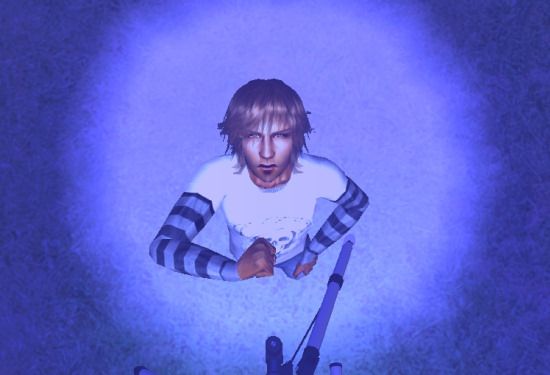 Okay, this time it's totally Jesus, right?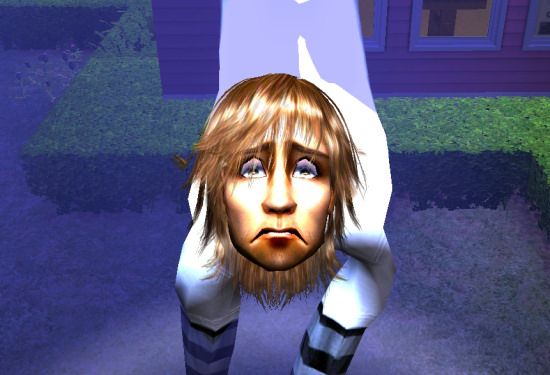 I AM EXTREMELY DISPLEASED BY THIS DEVELOPMENT.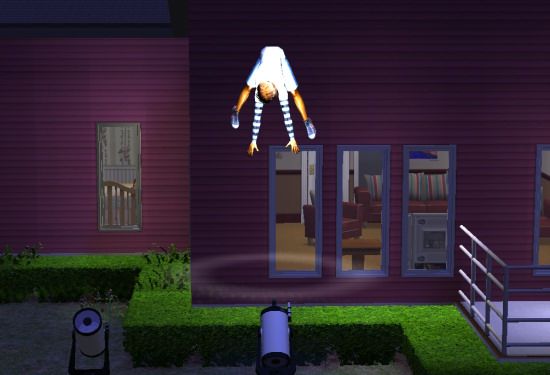 oh no.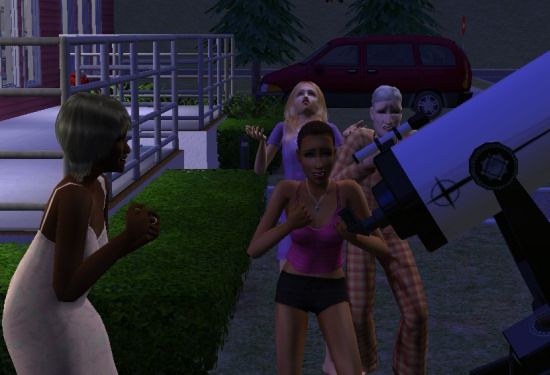 Little late, guys.
Argh, Tiffany, stop trying to sway heir decision by being completely awesome.
What's mom going on about? Oh well. Hey, look, an unoccupied telescope!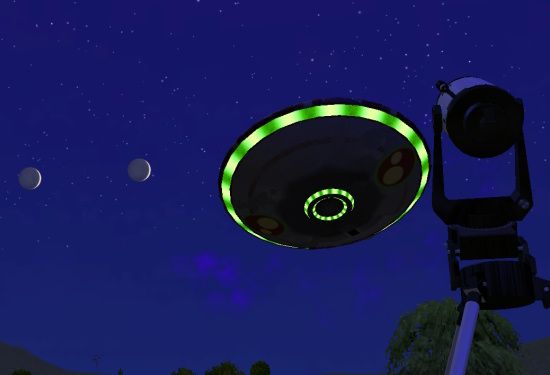 The sky is very pretty when you turn graphic effects up to High.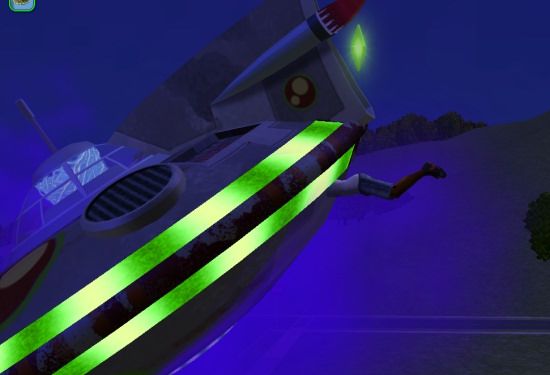 HOLY CRAP!!!! PULL ME BACK IN! PULL ME BACK INNNN!!!!
Let's see what the judges say... 8.5, 8.0... ah, and a 9 from the Russian judge...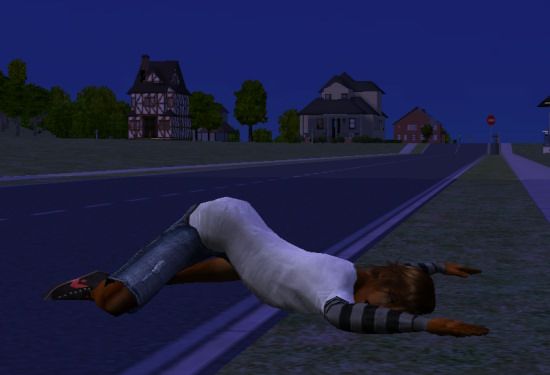 Ooooh. Definitely lost a lot of points on the dismount.
Please don't mention mounting.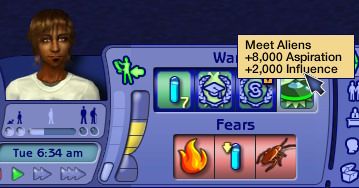 !!!
GodDAMMIT, Knute. Now YOU'RE trying to awesome your way into being heir!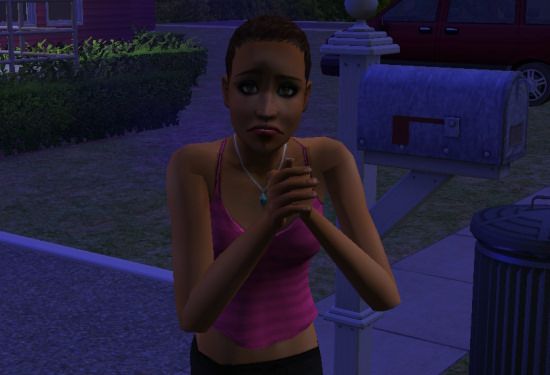 There's something very wrong with my brother.
What, you mean aside from the anal-probe fetish?
Here is what Tiffany thinks counts as gossip.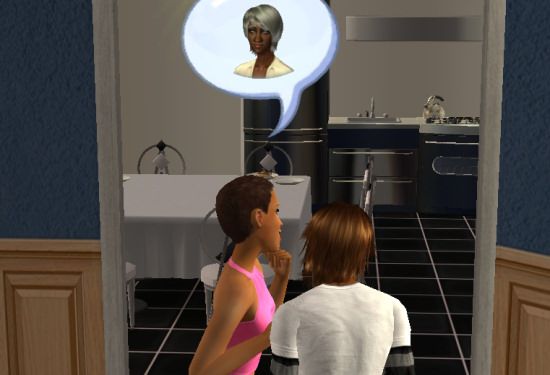 Hey, you know mom?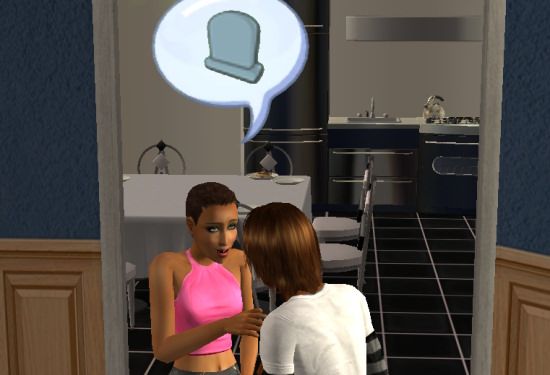 She's gonna be dead soon!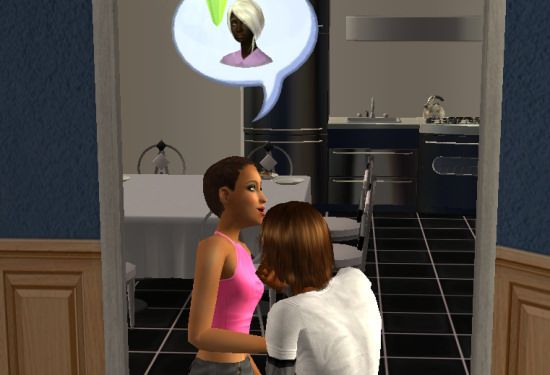 Just like grandma!
D: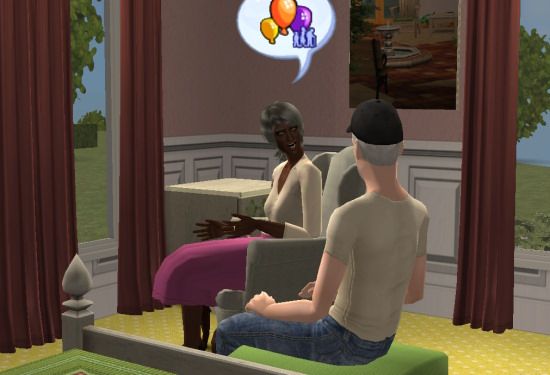 We'll close with the old people having an autonomous chat by their bedroom window. Because they want to kill me with cute.
Next time: college! Featuring sex, public urination, and the nerdiest date in the history of sim dating. And if you're wondering how I manage to play seven kids through college... well, it isn't seven for long.