Thursday morning I got a chicken pox vaccination, and now the back of my arm is swollen and itchy. :( :( :(
I remain, however, staunchly pro-vaccine. Millions of people -- a large number of them children -- dead each year from stupid preventable diseases, or MAYBE autism if you believe one study by some quack which has been retracted and debunked, and ignore the fact that autism rates have continued to rise even as immunizations go down? Oh man, you're right, put away those needles! MOAR DED KIDS PLZ.
I'm not an actress, though, so I obviously don't know what I'm talking about. Moving on!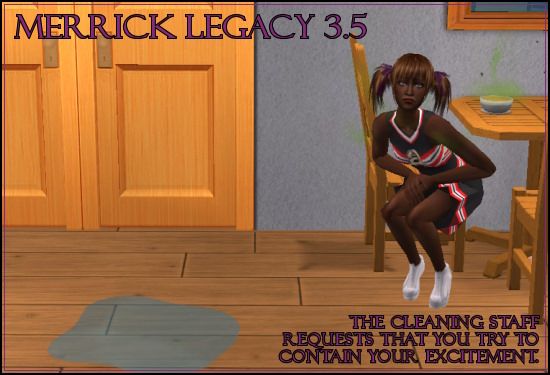 General warning: sometimes I swear.
Last time: gen 3 went to college! Crystal peed herself, and Tiffany got herself knocked up IN THE FIRST SEMESTER OF FRESHMAN YEAR and thus dropped out. The boys didn't fare too much better in the smarts department, though, since Knute made "friends" with the telescope-spyee. Duncan met the very intense Dominic, Knute had a commendation put in with Starfleet Command, and Crystal and Jeremy started spending a lot of time sitting together talking about makeouts. There was a disturbing amount of sex, that modifier mainly coming from the fact that everyone is ignoring my ACR acceptance threshholds. :( :(
This time: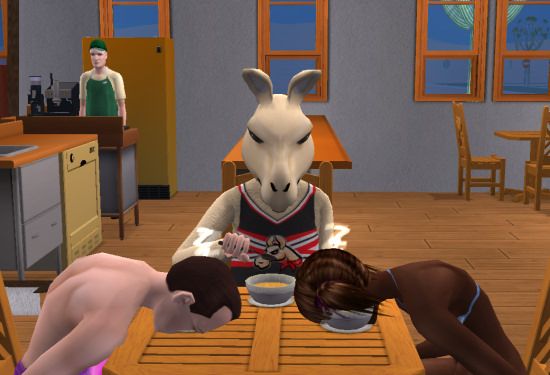 Llama mascot:
Excellent. Oh, yes, they mocked me before! I was a target of derision, an object of scorn! They COVERED THEIR EARS when I tried to regale them with the school cheer! But now? Now, when I've enacted my master plan to poison all their food with my sleep-inducing chemical concoction? Oh, yes, they will beg for the antidote. And I will hear their begging... and it will be sweet vo gerbits to my ears.

Who's cheering now, you pitiful fools? WHO'S CHEERING NOW???
That's right, the llama in my game is now a comic-book evil villain. It's official.
And I know I'd find it sinister if I woke up covered in demon flies and congealed mac-and-cheese.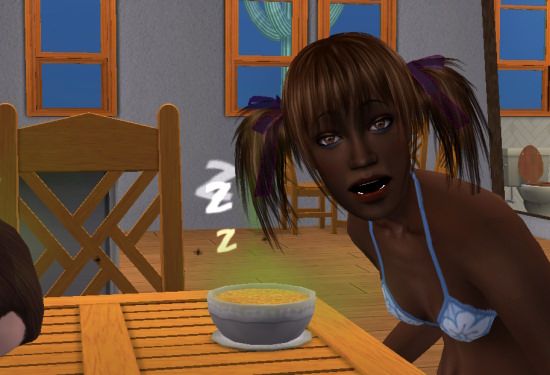 zzzHUH WHAT DEMONS BEHIND MY EYES -- oh.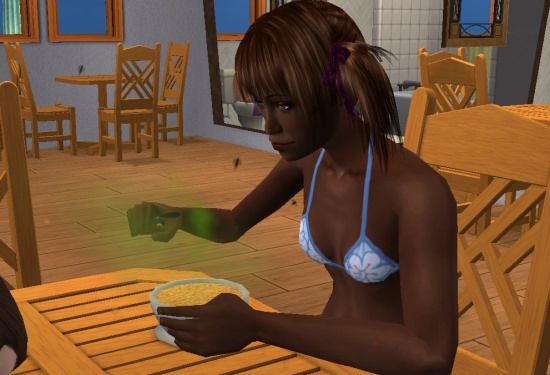 Might as well not let good food go to waste.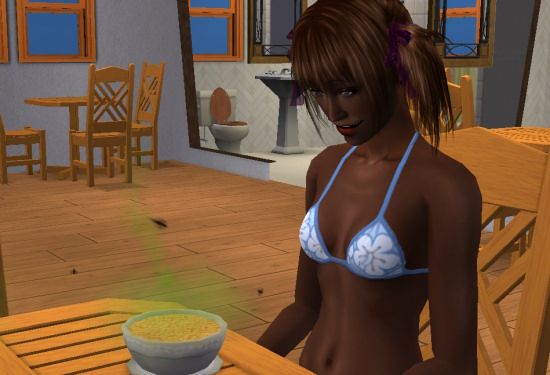 I feel good about my life decisions!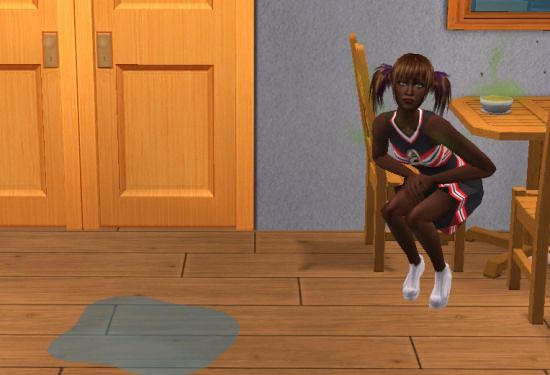 Me:
Oh dang. So is the long-distance self-urination another part of the llama's plan?
Cheerleader:
Yes. :(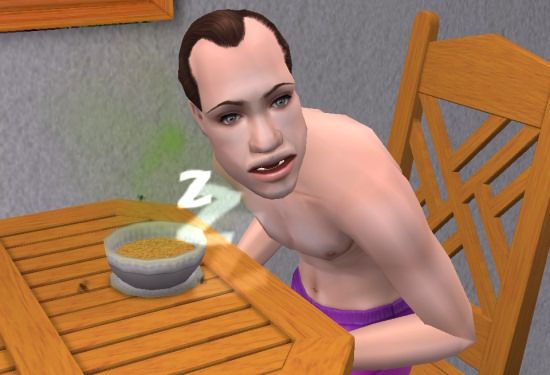 zzzOH SWEET FANCY JEBUS --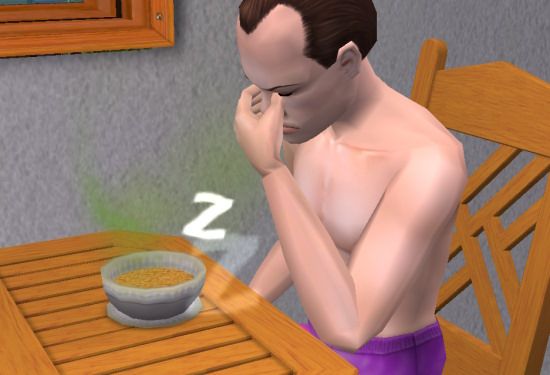 Why does it smell like piss in here?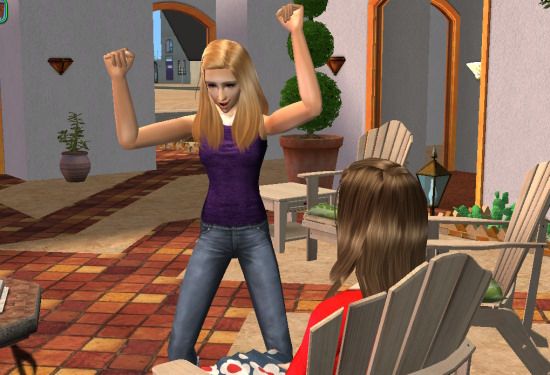 Better question: why is Crystal giving her sister a lapdance?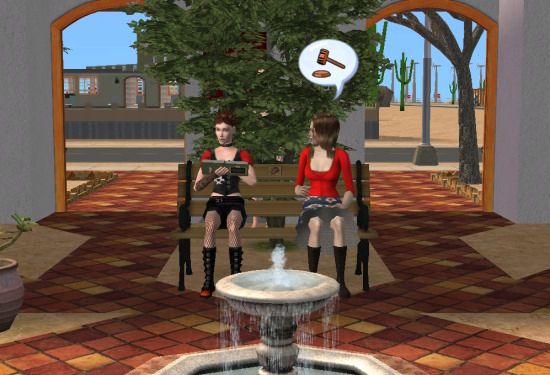 Apparently that isn't enough creepy for one day, because then this happens and makes me go D: D: D: for a while.
Now, you might ask, what's wrong with this particular situation? A couple of college kids, enjoying a sunny day in the courtyard; idle conversation, the gentle splash of the fountain, maybe a soft breeze rustling the leaves of the tree behind them. Seems peaceful.
Well, you're wrong.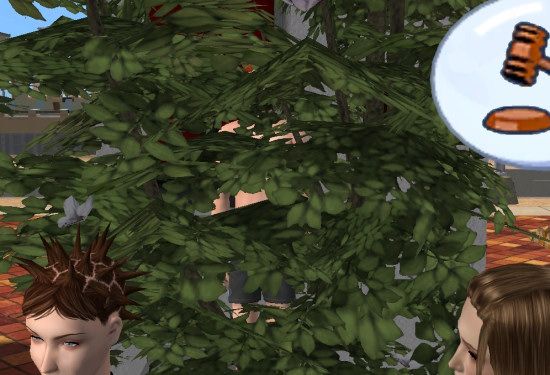 BECAUSE THAT RUSTLING SOUND IS NOT A BREEZE.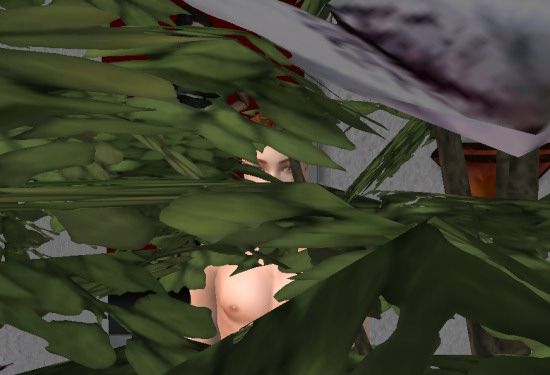 D: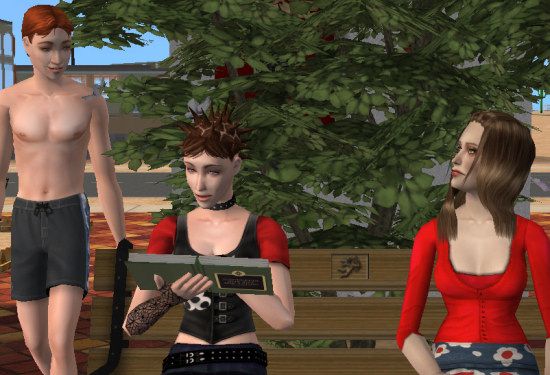 Fucking creepy stalker:
Oh -- h-hey, guys, what's up? Just going for a nice innocent walk! oh my god oh my god i can smell her hair from here it smells like lavender and freesia
Cassandra:
>:|
If I catch him making a mental note to oil her bedroom window so it doesn't make a noise when he sneaks in to watch her sleep, I'm killing him off.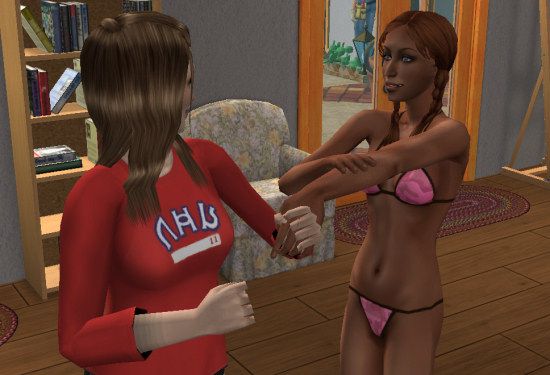 This picture just amuses me because it looks like they're holding hands while dancing.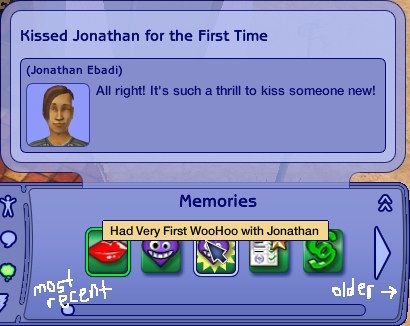 I guess Cass knows that I've considered her out of the running for heir since she was a toddler, because suddenly she's trying basically everything she can think of to get my attention. Like, see this? I notice her sitting by the photo booth in a Hang Out with the guy she kept trying to bang, so I checked her memories and -- argh Cassandra. Photobooth sex, then first kiss, THEN you sit down and actually have a conversation with him? Knowledge sim FAIL.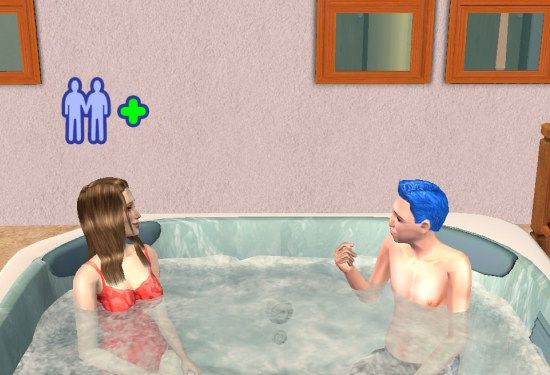 Then, as I watch, she gets up from her Hang Out action and gets into the hot tub. And she's joined by... this other guy. And then. Well.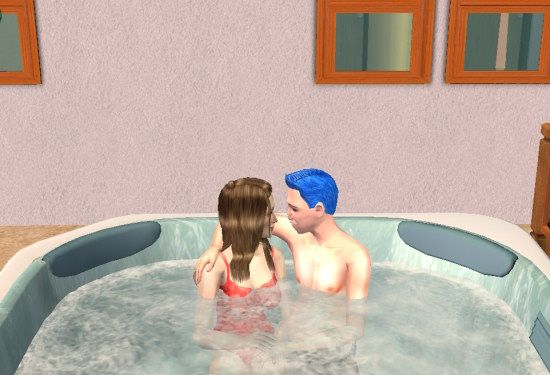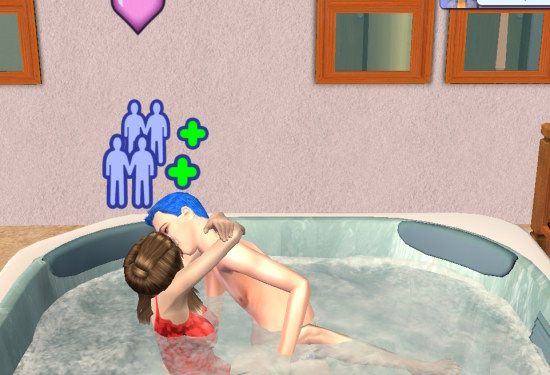 KNOWLEDGE SIM FAIL.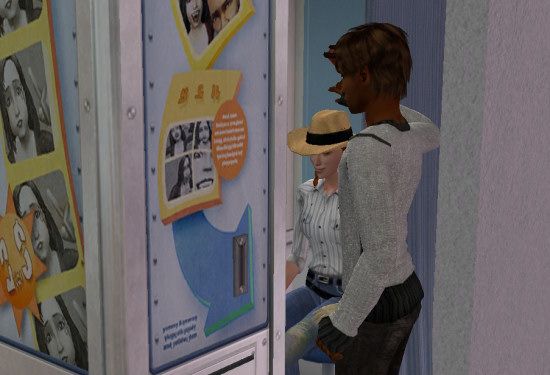 And then the SECOND Cass lets up, I notice her brother Knute -- also a Knowledge sim -- getting into the photo booth with the girl his brother Jeremy is seeing!
Next, Romance sim Michael will roll the want to take a vow of chastity, and I will go mad. Not least because no such want exists in the game.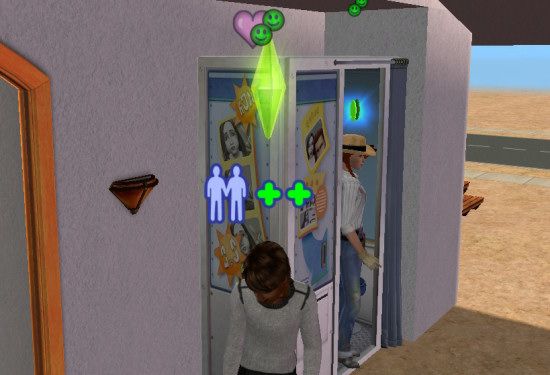 WELL GOOD FOR YOU.
And all this boggling over the various kids is well and good... but I should just admit that I basically made my heir decision way back at the beginning of this generation. Michael is heir. He's a hilarious asshole, he got a facial blend from his parents that is neither cloney nor boringly pretty, he rolls wants to hit on women that he's explicitly not attracted to, and did I mention he's hilarious?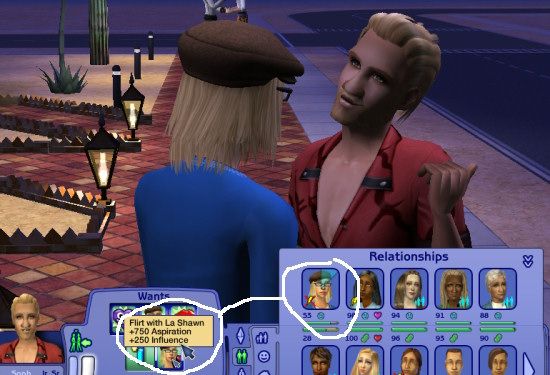 Hey, babe, I think you're a total hag, but you wanna go out anyway?
Never, never change, Michael.
JEREMY I DON'T KNOW WHAT YOU'RE THINKING ABOUT AS YOU GAZE AT YOUR LITTLE SISTER BUT I'M BETTING I WON'T LIKE IT.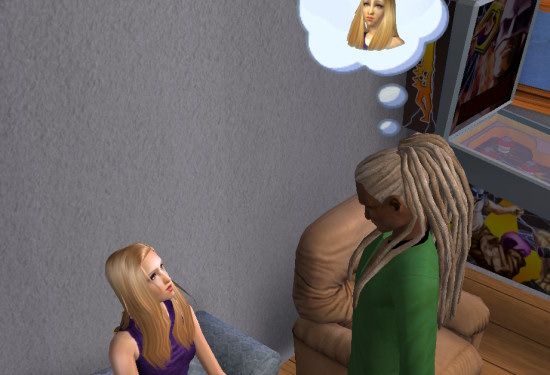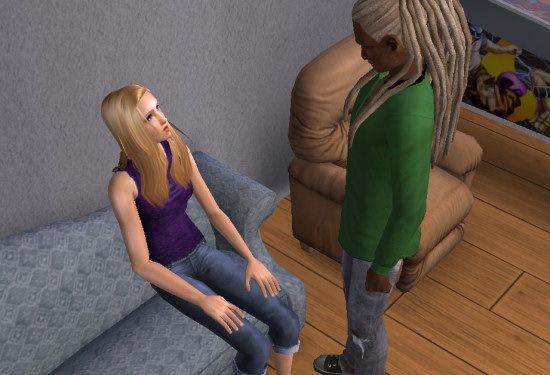 Also, there is such a thing as standing too close.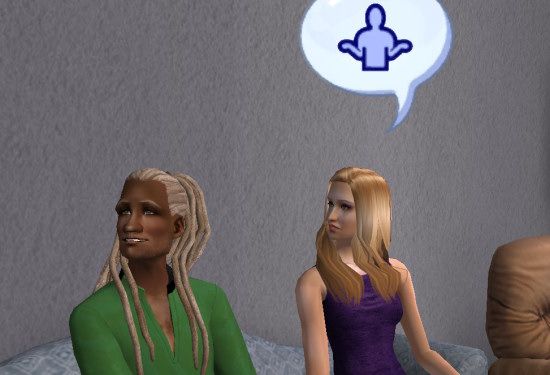 Crystal:
I don't know how to quit you.
Me:
*refuses to caption Jeremy's response since it involves sex*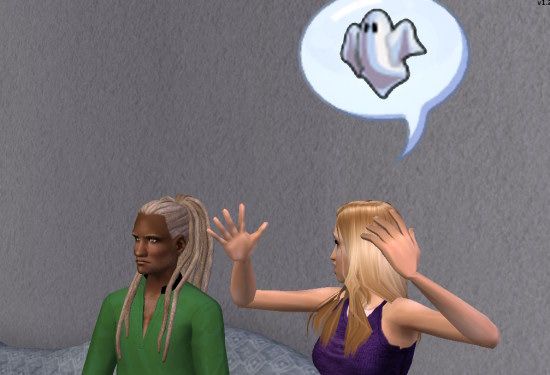 Crystal:
I'll keep loving you even after I die!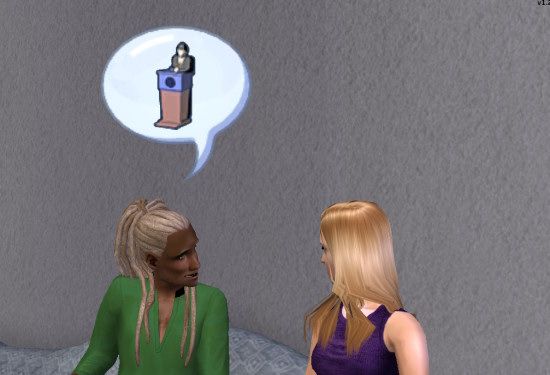 Jeremy:
I want to proclaim my love for you from the rooftops!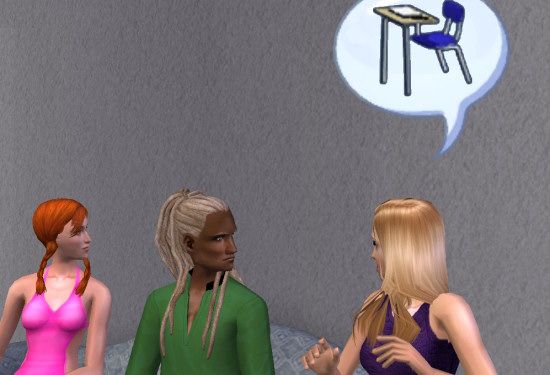 Crystal:
...so do you think our children should go to public school or private school?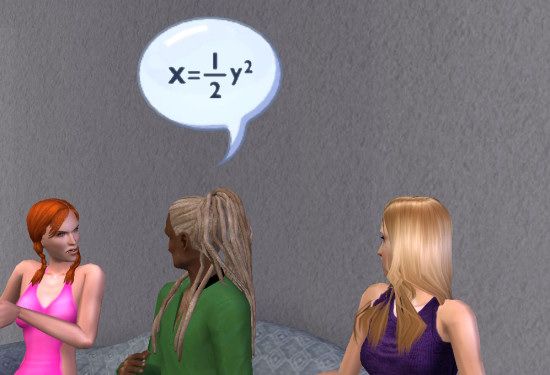 Random dormie:
What the HELL are you freaks talking about?!
Jeremy:
Do the math, lady.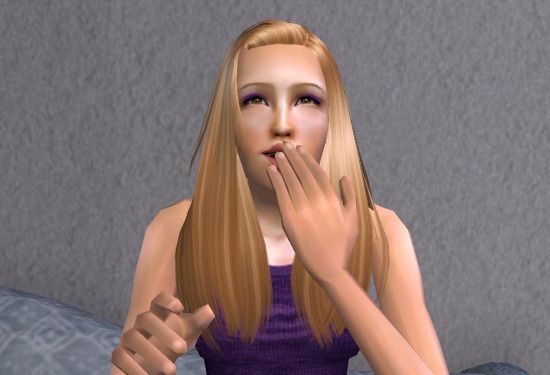 Crystal:
lololol incest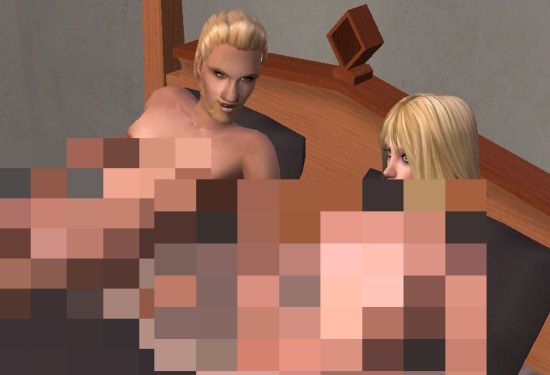 I totally forgot that Michael was on a date with that woman he finds ugly while all this was going on, but fortunately, he seems to have it well in hand.
I'll have it in somewhere else in about two seconds, if you catch my drift --
Oh, I catch it. And frankly, I'm guessing one could catch worse things from you.
Oh crap, I'm pretty sure I saw a horror movie like this once...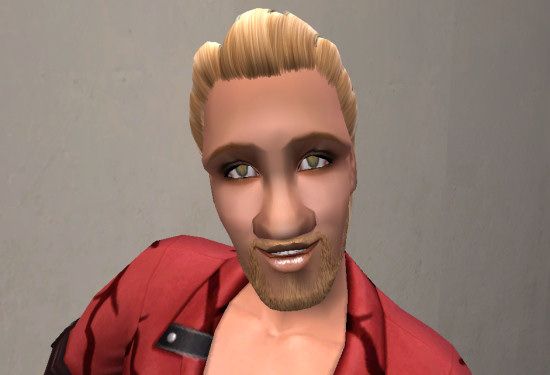 NOOO HE'S POSSESSED BY DEMONS LASHAWN RUN WHILE YOU STILL CAN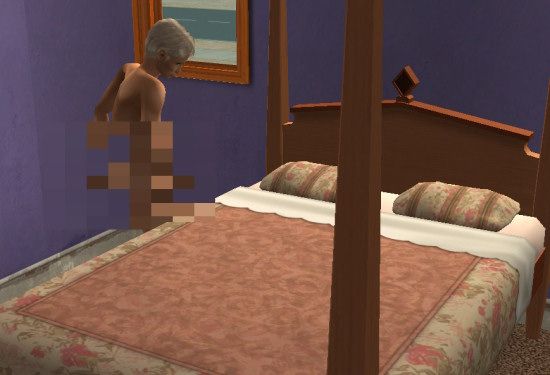 The next day it's apparently still Act Out To Get Jenny's Attention Season, as Fortune sim Duncan -- who has yet to even get a crush on anyone -- hops into bed naked. I scroll around the lot to see who might be joining him, but don't see any likely candidates, so I just watch.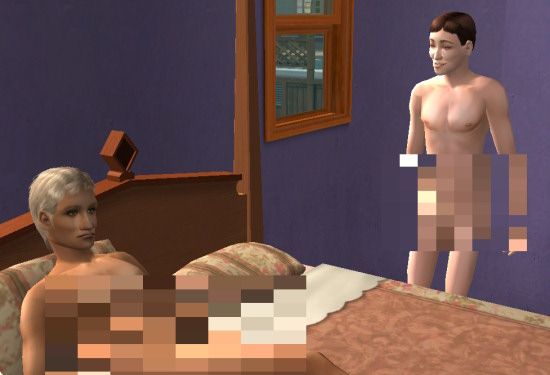 The mailman, Dunc? Seriously?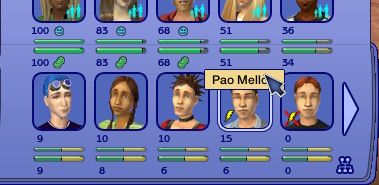 The mailman. You're positive about this.
Well, I'm not. *cancels action*
Why does ACR even HAVE the option to set woohoo acceptance levels if those levels aren't actually respected?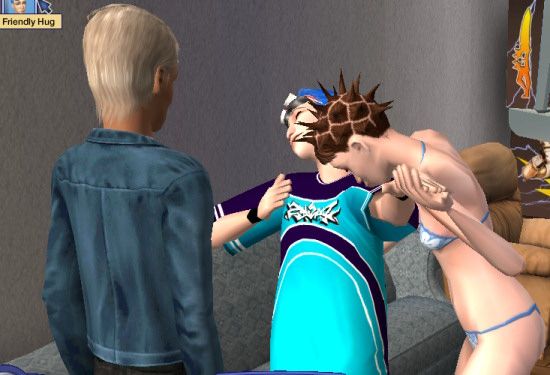 Poor Duncan is also way into this blue-haired dormie -- the same one who's already banging both this chick here *and* Dunc's big sister Cassandra.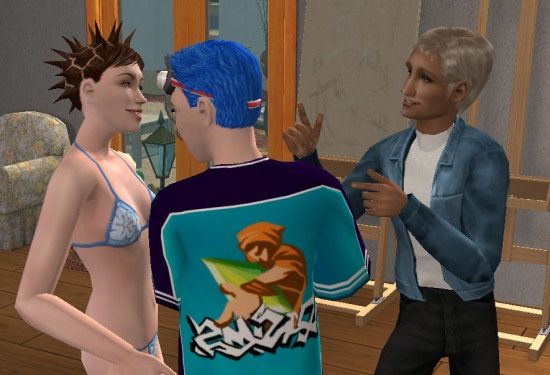 Duncan:
Heyyy, good job stealing the heart of the boy I love! :D
oh god i want to die D:
Since Dunc is obviously feeling funny grown-up feelings, I decide to give in and let him invite over the guy he gave a makeover to last update. Dominic has whatever magical Maxis face template it is that is really, really cute.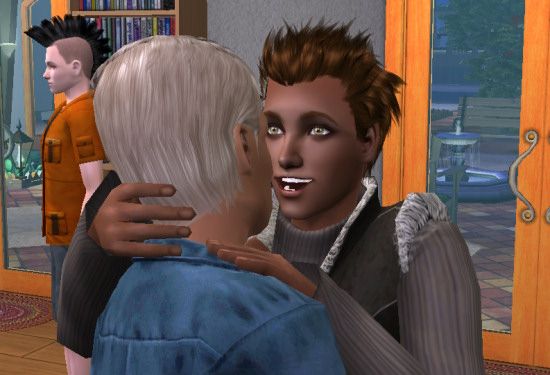 Plus he continues to be hilariously intense.
I'M GONNA SNAP YOUR NECK NOW K :DDDD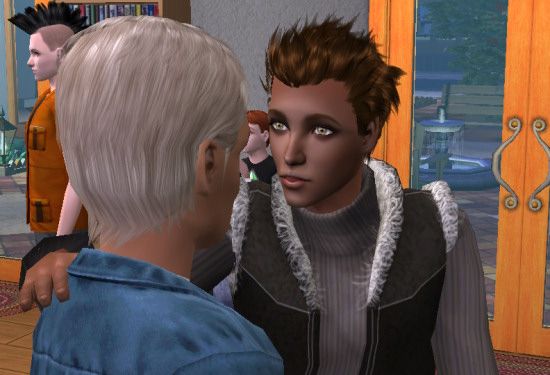 Ooooh, wait. That would probably be bad, huh.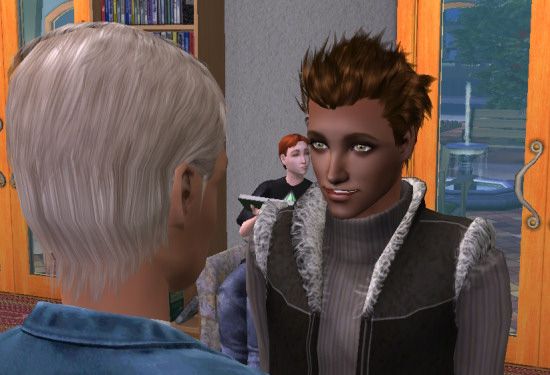 Eheheheh... never mind.
. o O (
He'd be so cute with his neck snapped :D o_@ :D
)
Then I quit playing for the night, and the next time I loaded up the game Dominic was gone.
Was it something I said?
On other fronts, Knute wants to get engaged to the gardener who Jeremy was dating...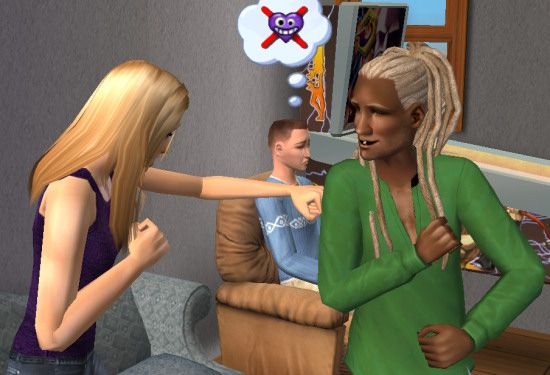 ...Crystal and Jeremy are using aggression to deal with the stress of
their incestuous urges
college
which obviously squicks the dormies out as much as it does me
...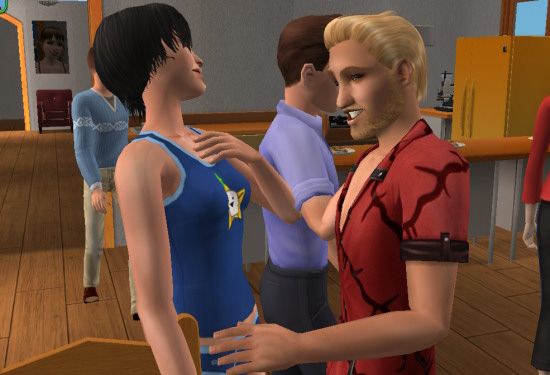 ...and Michael is making some real progress with the cow. Helps that she's out of uniform for some reason, so she's hitting his undies turn-on.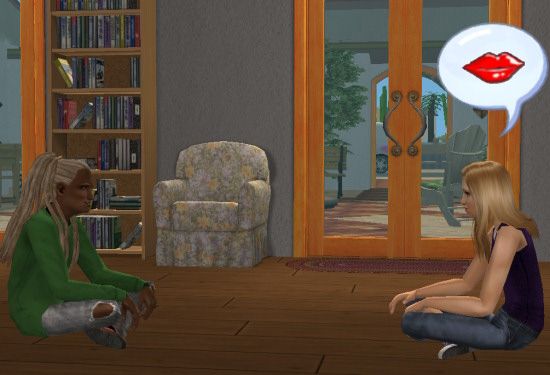 THE ANSWER IS NO.
What's that, Cassandra? The maid is hot, you say?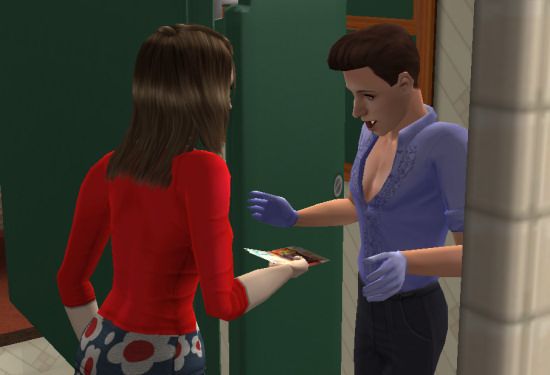 Tip him! Tip him! Quick, buy his love! It'd be awesome to see him cleaning in his undies post-woohoo.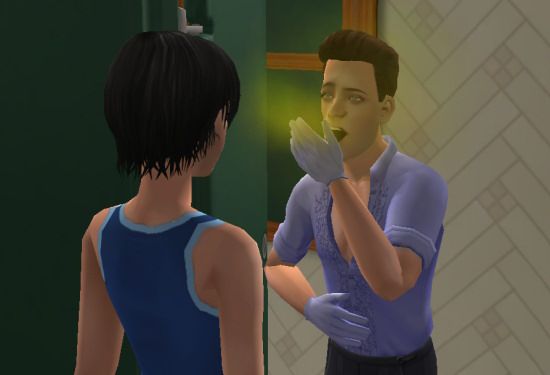 Um. His reaction to being belched at by the cow is to give her one right back. Yeah, Cass, I think this guy's a real keeper.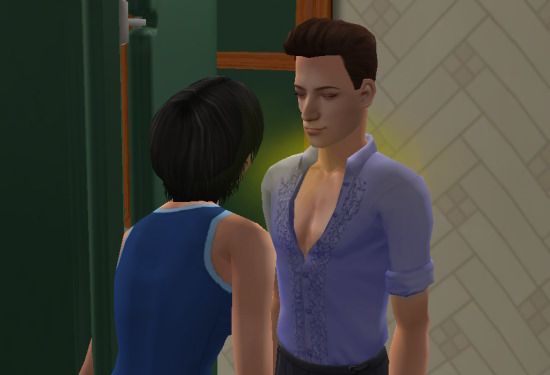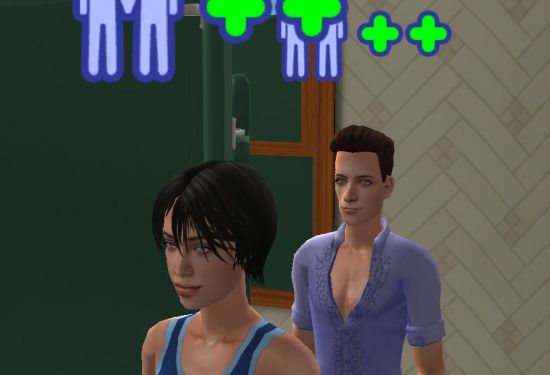 Maid:
I'm glad we got the chance to do this.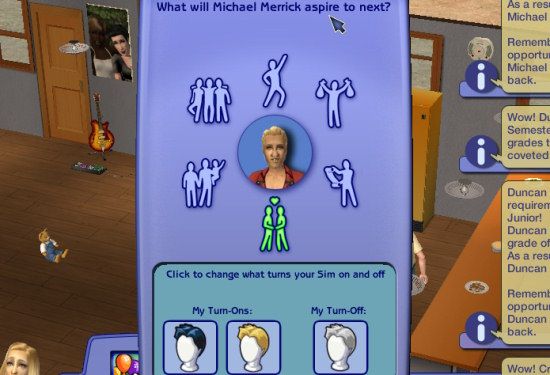 Junior year, I re-roll Michael's turn-ons. He keeps that blonde hair turn-on that annoys me so much (I DO NOT NEED AN ENTIRE BLONDE GENERATION THANK YOU), but adds black, which is something. Apparently he'll ditch all his girlfriends when they get old, though. Classic Romance sim.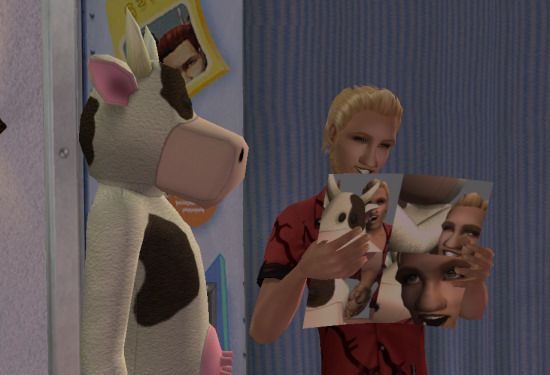 Date with the cow~~~~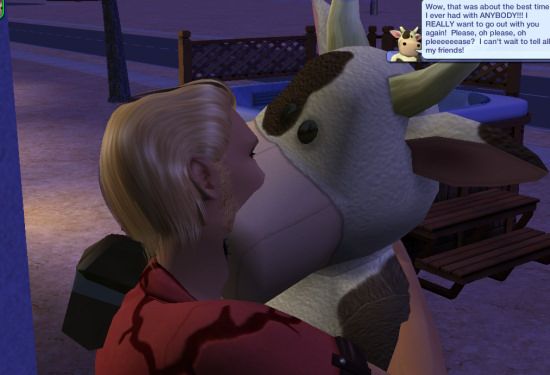 Cow:
[eats Michael's face]
Man, everyone wants the blue-haired dormie -- the spiky-haired chick, Duncan, Cassandra... I don't get it. Is it the goggles? It's the goggles, isn't it.
Also, Cass? KNOWLEDGE SIM FAIL AGAIN.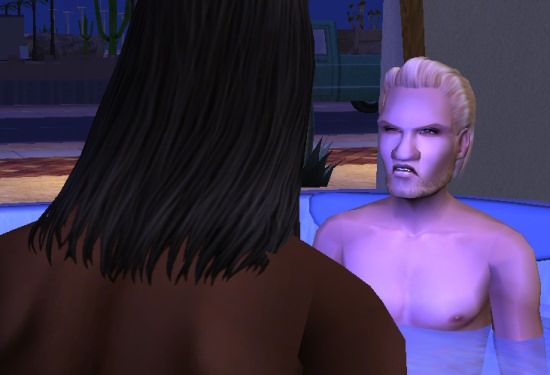 Michael gets the cow naked into the hot tub, and then this random dude gets in with them. So Michael makes this face...
...and the dude immediately hops out again.
Michael:
Yeah, bitch, you BETTER run.
I'm not sure who-all I'm going to send to the Merrick house as Michael's babymommas, but I'm kind of sad that the cow is a Family sim, and thus would not be a good choice. Michael is probably going to wind up with a harem of fellow Romance-ers who are cool with polyamory.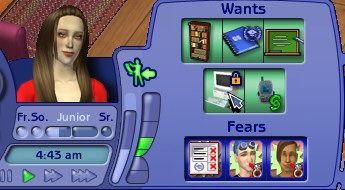 Speaking of polyfoomous relationships, Cassandra is afraid of being rejected for engagement to Cooper (aka blue hair), and to Jonathan. PICK. ONE. Dumb excuse for a Knowledge sim.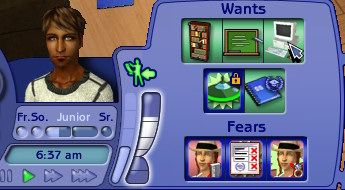 Knute, meanwhile, has a pretty-much-constant fear of getting turned down for engagement by Ericka the gardener. She, however, keeps rolling wants to marry Jeremy... who doesn't seem to care one way or the other.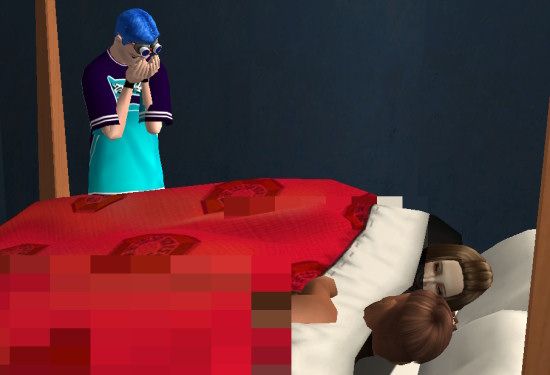 You know who does care? Blue hair. He ran over to where Cassandra and her other woohoobuddy were at it, and sobbed while "Be Slapped" waited in Cass's queue. Poor blue hair.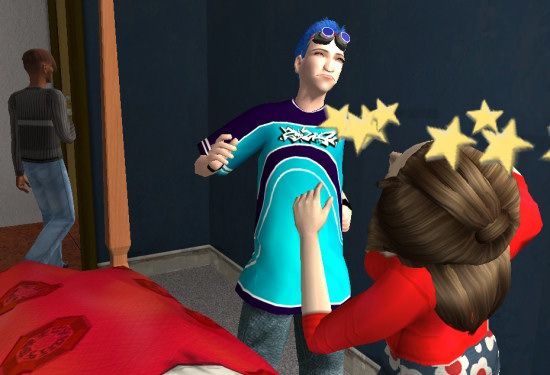 Blue hair:
[slaps]
Other dude:
[already out the door]
Way to defend your lady there, other dude.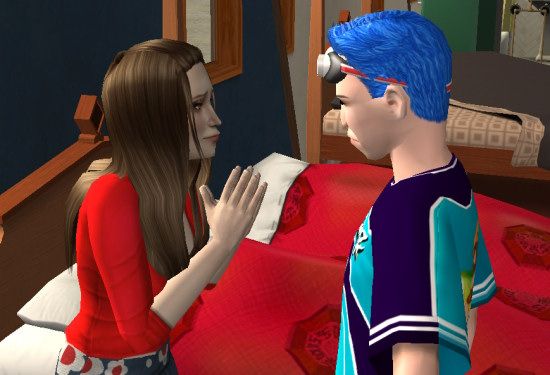 Cassandra:
I'm soooo sorry I slept with another dude even though you're constantly banging that Elise chick whose room is next door to yours and apparently that's okay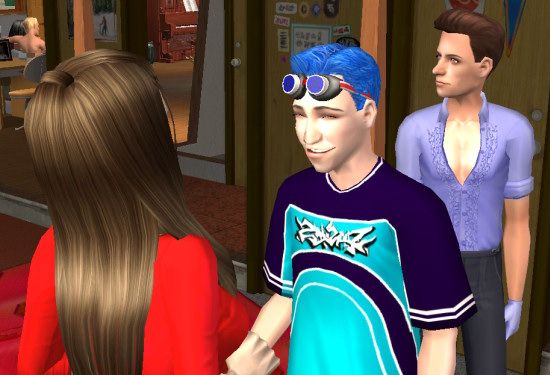 Blue hair:
Nah, it's cool.
Maid:
. o O (
I wish they'd get out of the way and let me make the bed.
)
Meanwhile, AT THE EXACT SAME TIME this is happening, it's Knute's turn with Ericka in the photo booth, as Jeremy walks away from his own turn...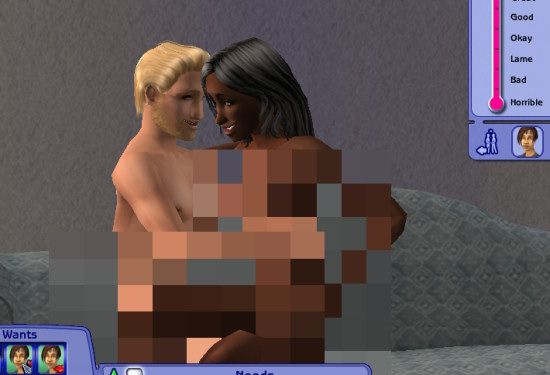 ...and Michael is sofa-woohooing one woman while the woman he's actually on a date with right now sleeps in his bed after THEIR woohoo session.
This generation has SO MUCH SEX. Except Duncan, because I have decided to match him up with Dominic but haven't given them much time together yet.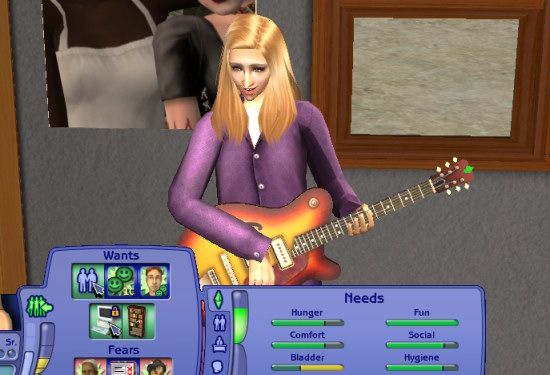 Oh, and if you're wondering where Crystal is during all this: she's busy playing the guitar instead of peeing.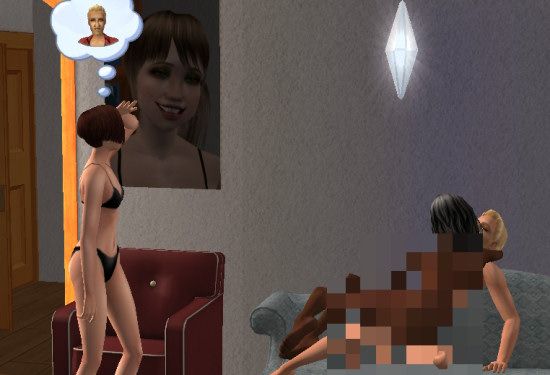 Michael's date has woken up! She thinks Michael is hot when he's screwing other women.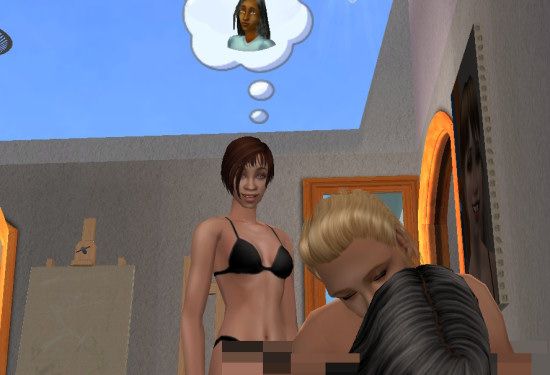 No comment.
Next time: romance is in the air! Also fistfights. Also furries! Also someone else gets college pregnant LIKE A COMPLETE MORON. Oh, and a little something called THE END OF GEN 3 YAY. All that and Cassandra continuing to suck at Knowledge simming, whenever I get to posting it!